Flexible Packaging Achievement Awards
2020 Winners
Congratulations to the 30 winners of the 2020 Flexible Packaging Achievement Awards competition! These winning packages exemplify the very best in flexible packaging solutions.
The Flexible Packaging Association is pleased to present the FPA 2020 Flexible Packaging Achievement Awards & Innovation Showcase, which features flexible packaging solutions that meet expectations and needs through advancements in materials, graphics, structure, new uses, extended shelf life, and sustainability.
This year, 73 packages were submitted in the competition, for a total of 206 entries. Thirty packages were honored with 48 Achievement Awards in various categories. The downloadable Innovation Showcase includes all competition entries, which are presented, following the winners, in alphabetical order by package name.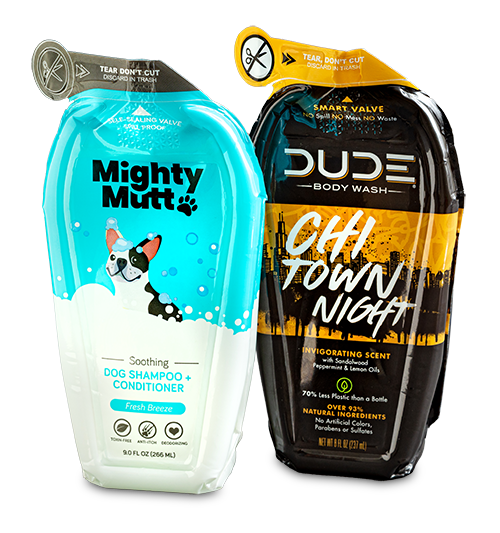 AeroFlexx
Highest Achievement Award
Gold – Expanding the Use of Flexible Packaging
Gold – Packaging Excellence
Gold –Shelf Impact
Gold – Sustainability
Gold –Technical Innovation
AeroFlexx is a 'new to the world' package format that is revolutionizing the liquid packaging industry as the only flexible package providing features and benefits that are superior to that of a conventional bottle. It uses an air frame to integrate tailored rigidity into a flexible film, creating a package with no discreet closure; clean and controlled one handed dispensing functionality; a 360 degree palette for branding; a structure that is e-commerce compliant without additional protection, all with at least 50% less plastic than a bottle. The package is consumer preferred, customer centric, more sustainable, and cost competitive with bottles and designed to disrupt the entire liquids packaging value chain.
Manufacturer: AeroFlexx
End-User/Customers: P&G/Defense Soap/Blue Zebra Brands/Dude Products
Plant: Fairfield, OH
Designer/Design Firm: Ken McGuire, P&G
Key Suppliers: Mondi (flexible film material); P&G – Package Design Elmwood (graphic design for P&G); and AeroFlexx Artworks Haney (digital printing for mockups)
Special Thanks to Our Judges
FPA congratulates the winners and thanks all the companies that participated in the FPA 2020 Flexible Packaging Achievement Awards Competition. Special thanks are given to the 2020 competition judging panel: Min Degruson, Ph.D., Assistant Professor, Packaging, University of Wisconsin – Stout; Matt Reynolds, Editor, Packaging World; and Mike Richmond, Ph.D., Principal, PTIS, LLC.