 Leading the Way in Innovation
Advantages of Flexible Packaging
Flexible packaging makes thousands of products more convenient, enjoyable, and safer for consumers. All thanks to the commitment to innovation, technology, and sustainability that is the hallmark of flexible packaging.
Consider Flexible Packaging
A Packaging Solution Driven by Technology and Innovation
As one of the fastest growing segments of the packaging industry, flexible packaging adds value and marketability to food and non-food products alike – combining the best qualities of plastic, film, paper and aluminum foil to deliver a broad range of protective properties while employing a minimum of material.
The industry continues to advance at an unprecedented rate. Innovation and advancements in technology have led to the development of lighter weight packaging that enhance flexible packaging's shelf appeal, strength, product protection, and the ability to be sealed. There are hundreds of examples of innovation in flexible packaging. Each one starts from an idea: meat should stay fresher longer, shipping costs should be lower and medicines should be safer for the consumer. With its versatility, custom qualities, efficiency in conserving resources, and sustainability, there's no better time to consider switching to flexible packaging.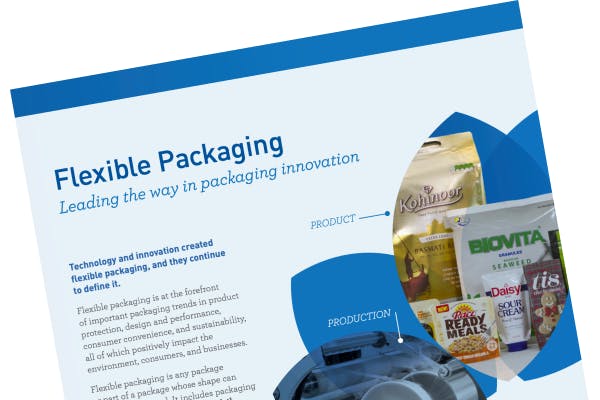 Leading the Way in Packaging Innovation
Technology and innovation created flexible packaging, and they continue to define it. This tri-fold details flexible packaging and how it is at the forefront of important packaging trends, such as product protection, design and performance, consumer convenience, and sustainability.