Home Delivery World 2022
August 31 – September 2, 2022
Philadelphia, PA 19107
The Hotels and Venues
Pennsylvania Convention Center
1101 Arch Street
Philadelphia, PA 19107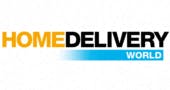 FPA is a partner for the event.
Home Delivery World is the industry-defining conference and exhibition for last mile logistics in the US and abroad. The show is dedicated to uncovering innovative solutions for retailers, grocers, CPGs and 3PLs facing challenges across the supply chain from warehousing to fulfillment and the last mile.
From fleet & route optimization, and reverse logistics, to grocery delivery, parcel spend and white glove, this is the event of most importance for eCommerce retail supply chain.